If you're already sick of reading about my blossoming love then come back tomorrow as I'll have some fresh new content focusing on how you can improve the relationship between you and your money. However, if you cried during The Notebook or find yourself with a cheesy grin during an entire episode of The Bachelorette, I recommend you read on.
If you have been following Funancials for longer than a week, then surely you have picked up hints of a potential engagement. "I absolutely have, but don't call me Shirley!" answers the playful reader.
In Part I of the Love-Love Story, you got to picture me asking Mr. Washington for his blessing to marry his daughter. So for Part II, that leaves us with the other important question.
I asked z father, now I must ask z daughter.
Every girl dreams of the day her prince charming proposes to her. On the other hand, every guy thinks of how he will "pop the question" the day before he actually "pops the question." Not much preparation goes into this moment.
Except for this guy. A Blinkin not only kills vampires (this movie looks horrible), but A Blinkin likes to charm the ladies as well. He also likes fine wine and speaking in third person; but this post isn't about the Abe, it's about the lady.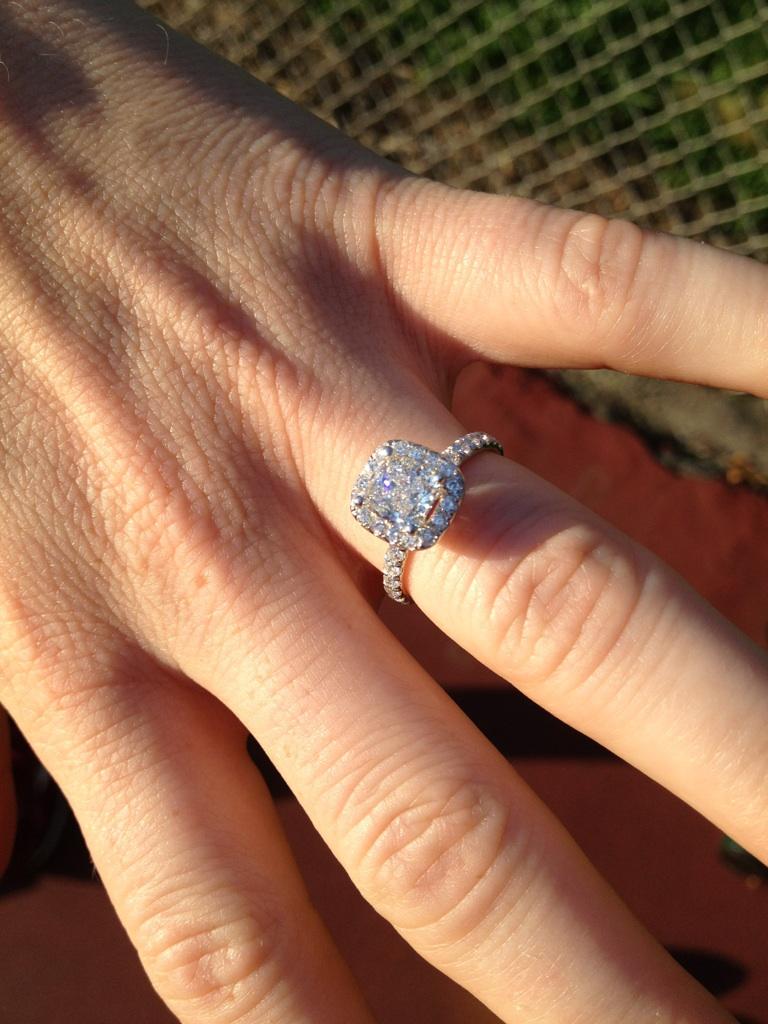 The Original Plan
Miss Blinkin and I have been taking ballroom dance lessons off and on (mostly off) for about a year. We can salsa and cha cha with the best of them. It's been a great experience as it removes each of us from our comfort zone. Because of its significance in our early-on dating, I wanted to include it in my proposal.
I had several options I was playing out. I could schedule a lesson and it wouldn't seem out of the ordinary. During the lesson I would get our instructor to choreograph a dance that includes me getting down on one knee. Ask the question, BOOM, and done. The only downside of this option is the public pressure during the proposal. Having on-lookers during your waterworks isn't exactly dream-like.
The other option I was considering was to have Miss Blinkin sit at the end of the ballroom. I would disappear to the bathroom (again, nothing unusual) while all of the instructors broke out into a dance. A flash mob, if you will. Reappearing into the middle of the choreography, I suddenly show off my samba skills. Miss Blinkin would be so surprised and amazed, she would have to say yes!
The Original Plan – Ruined
They say that no idea is ever "new." Every thought has been thunk. And every sitcom is simply another spinoff of I Love Lucy.
Apparently I wasn't the only guy to think of this choreographed proposal. While scouring the web, I came across a Youtube video that had gone viral. In case you haven't seen it, please watch it. It's Isaac's Live Lip-Dub Proposal. 14 million views and counting (half of them were me)…How could I possibly contend with this? I know Isaac just proposed and all, but he can get any girl he wants now!
The Thought Process
My proposal plan was crushed when I stumbled upon Isaac's perfect performance so it was time to rethink my options. I knew that the ring I designed would be arriving any day now. I didn't want to have the ring in my possession for too long. You should know that I'm terrible at keeping secrets. If the ring were stashed away in my drawer, my constant staring at the drawer would be a dead-giveaway for a suspecting bride-to-be.
What Is The Perfect Proposal?
This was a question I asked myself over and over. I really wanted everything to be unexpected. I knew that if I were to take Miss Blinkin on a hike, she would expect the proposal at the top of the mountain. If we were to visit a vineyard, she would be expecting the question the entire trip. I had to keep things "normal."
Love-Love
Besides eating, sleeping and working out – I thought of another daily occurrence she and I enjoy doing together.
(Nope, not that perv! This is a PG website.)
Tennis.
How could I incorporate tennis into a proposal? I've got it! I could invite her to play tennis on Friday night. I could decorate our tennis rackets with a "Will You Marry Me?" on the face. Perfect plan, right?
So I get to work Friday morning, proud as ever with my "new" idea. The plan is to decorate the rackets during the day with items I'll purchase at lunch and then I'll ask her to marry me. Sounds easy enough.
As soon as I stop patting myself on the back, I go out to my car to get started. Only one problem. The rackets aren't in my car, they're in her car. "Holy Hell Batman! You've got to be kidding me!" My actual outburst was much worse but, remember, we're keeping it PG.
How on Earth am I going to break into Miss Blinkin's car to steal AND THEN replace the rackets? Seems like an impossible to task to a mere mortal, but I knew it was doable.
Who am I kidding? I was scared shitless.
With everything that was on my mind, clearly there was going to be no work accomplished today. So I took my dilemma to my co-workers for a brainstorming session. How in the dickens am I going to pull this off?
Options:
Don't use tennis rackets.
I can plant the ring in the tennis balls. This was likely going to be the winner. It's requires very little effort on my part. Buy a new can of tennis balls and that's it. Maybe she'll ask why I bought new tennis balls but that's an easy question to dodge.
Break into Miss Blinkin's car.
I received a lot of support from co-workers on this one. I was meeting Miss Blinkin for lunch so I could tell her I left a CD in her car. If only people listened to CDs…
Probably costs me $200 but we could use some new rackets. She may be curious why I didn't tell her I bought new rackets. It's not normal for me to surprise her with an impulse purchase.
Don't propose tonight and wait 'til I have my shit together.
Right…like this was happening. The ring was in and my juices are flowing. I received a lot of good feedback from my co-workers.
My favorite question was "do you actually want to play tennis tonight? Because if you do this, you realize you're not going to play tennis, right?" That's a fantastic point that I didn't consider.
Since I've already surpassed the 1,000 word marker, I'm skipping to the good stuff.
The Proposal
During my lunch break, I picked up the ring, went to Dick's to grab 2 new tennis rackets and swung by the arts and crafts store. After work I ran home (in a panic) to prepare. I drove over to Miss Blinkin's place with a million thoughts running through my head.
First thought: find her keys!
I walk in the door and spot her sitting on the couch. My head's on a swivel. Kitchen counter? Nope. Dining room table? Nope. That only means one thing: her disaster of a purse. I could easily get lost in her purse and have to cancel the entire evening. But before it comes to cancellation, I rescan the kitchen I find the keys.
With Miss Blinkin having no hunch, I run outside to switch out our old rackets with the newly decorated proposal rackets. How did I manage to pull this off? Ethan Hunt would've been jealous.
Just when I think I'm in the clear she asks, "Have you seen my sunglasses?"
Son of a bitch! Her sunglasses could very easily be in her car. She'll notice the old tennis rackets and wonder why they're sitting there after I told her I moved them to my car? I'm toast.
I sprint back to her car to find her sunglasses. I find 2 pairs and sprint back inside to let her know that everything is A-OKAY. Everything is "normal."
So we drive to the tennis courts and I'm on top of the world – knowing that I have pulled off the impossible. The only thing that could go wrong at this point would be for all of the tennis courts to be taken. Thankfully, this isn't the case.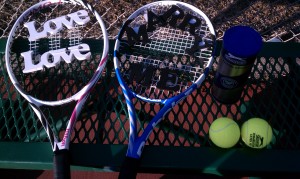 We walk to the far end of the courts and Miss Blinkin still isn't suspecting a thing. She opens the case and pulls out the bottom of the tennis racket. Confused, she immediately thinks we have someone else's rackets. That is, until she sees the face of the racket which reads "MARRY ME."
"Is this for real?"
To remove all confusion, I pop open the can of tennis balls and inside sits the ring. I get down on one knee.
"You're my best friend. I want to spend the rest of my life with you. Will you marry me?"
ZING!
I'm pretty sure she said "yes" because we started kissing.
"I know you're really excited right now, but I really do want to play tennis. Just give me one hour…and then you can call everybody you know."
So we played.
And I crushed her.
The ring stole her attention like she stole mine. Now we're even.
Love – Love.