I love credit card rewards.
It's funny to think that most of my excitement stems from the much-too-fast accumulation of 6%, 4% and 2% of my total spend. Even though my cash back rewards are "double the fun" of the popular 3-2-1 offers and more lucrative than the rotating 5% categories; the rewards are still measly in the grand scheme of thing. After all, we're talking about the return of 1 to 6 pennies for every dollar spent.
Except for today…
…because American Express has an impressive cash back offer on Costco purchases.
Amex Offers
At the end of last year, I told you not to miss out on Amex Offers. Although I don't use my Amex for every purchase, I use it occasionally because of their attractive offers. And the offer I stumbled upon yesterday is just that – extremely attractive.
American Express is offering $25 cash back for any purchase of (more than) $25 at Costco.
Just to show off my mathematical wizardry, that's a cash back rate of…wait for it…wait for it…100%!
That is…if your purchase totals $25.
But, let's be honest, there is NO WAY you can walk into Costco and only spend $25.
Nonetheless, it's still a great deal if you're an Amex and a Costco customer.
How to Activate the Cash Back Offer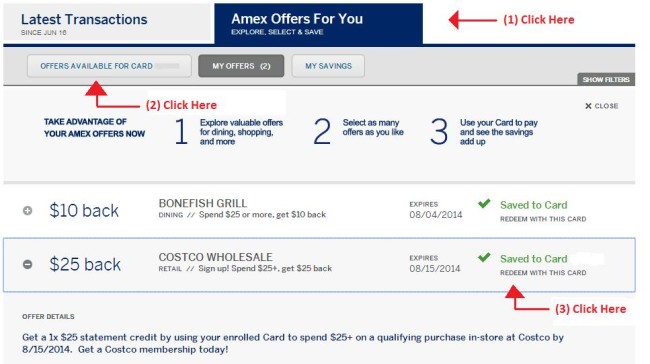 (1) When you log into your American Express account, scroll all the way to the bottom and click on "Amex Offers For You."

(2) Next, click on "Offers Available for Card."

(3) Then, click on "Save Offer" and you're finished.
*If you don't have a Costco membership, the offer can be applied to cost associated with obtaining one. 
*The offer expires and the purchase must be before 8/15/2014.
As always, just remember to spend wisely. 
{ 0 comments }