If you have ever wanted to travel to Greece, I would highly recommend it. It is a beautiful country full of history, extremely nice people, and the best food I have ever eaten.
We spent a total of 10 days in Greece, but we would have loved to stay much longer. We started our trip in Athens, then moved to Santorini, and finished in Crete (before heading to Turkey). I hope that this blog post will allow me to relive my unbelievable honeymoon and give you an idea of what to expect if you choose to visit Greece.
– Athens is gigantic. According to our tour guide, approximately half of the entire county's population lives in Athens (Wikipedia says it's a little less). In total, there are around 4 million people residing in or around Athens.
– It felt like everyone spoke English very well. I was impressed. We were told that students begin learning English in the 3rd grade. I would actually argue that the Greeks are better at speaking English than many Americans.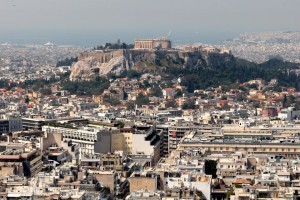 – If you are considering a trip to Athens, I would recommend staying a maximum of 2 days. Once you visit the Parthenon on the Acropolis, there isn't much else to write home about. We had a tour guide who was very helpful and was able to tell us where everything was, where we should go, and gave us just enough history to keep us interested.
– We stayed beside the Parliament building and witnessed Greek farmers protesting (fun to watch from a balcony).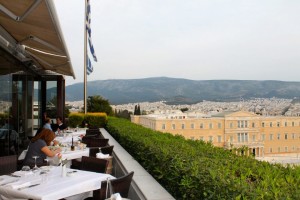 – WHAT WAS MOST AMAZING WAS…the unemployment rate. You know that I don't fully trust "official" numbers provided by the government, so I asked our tour guide what the unemployment rate was. She said it's around 30%. More astonishing, she said, "for people your age (young adults) it's closer to 60%." These young adults aren't deadbeats either. Both of her sons are unemployed. And they each have a Master's degree from the London School of Economics.
– After drinking the orange juice, I began to question how our (American) orange juice is made. It was so delicious.
– It is common for Greek people to take a siesta (nap), or a break from work between 2pm-5pm. I don't remember stores being closed during these hours, but I remember EVERYONE enjoying a Frappe around this time.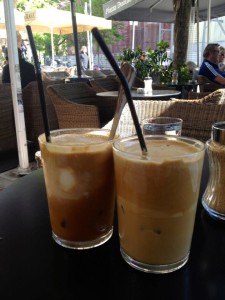 Speaking of naps, I'm tired. So I'll have to fill you in on Santorini, Crete and Istanbul in posts to come.