"Everyone wants to believe they are middle class…But this eagerness…has led the definition to be stretched like a bungee cord — used to defend/attack/describe everything…The Drum Major Institute…places the range for middle class at individuals making between $25,000 and $100,000 a year. Ah yes, there's a group of people bound to run into each other while house-hunting." – Dante Chinni
I wanted to highlight this quote because the reality of it is humorous. Everyone wants to consider themselves to be middle-class.
Unfortunately, the darling demographic is disappearing.
The Truth about America's Middle Class
The term "middle-class" originated around 1745 as a social class between nobility and peasantry. Within the confines of Capitalism, somebody that was born with nothing could become something and rival nobles.
Speaking more modern, ANYBODY can become SOMEBODY.
It doesn't really matter how you explain it or define it, though. What matters is that the middle class is shrinking. The further we remove ourselves from free market forces, the smaller the middle-class will get.
Let's see if I can explain visually…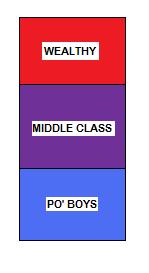 Pretty simple, right?
The bulk of Americans fell into the Middle Class category (Shelter, Food, Health, Job Security).
We're starting to see the box-like structure take more of an hour-glass figure. See below..
Yea, that's what I'm talking about.
Wait, no. Wrong hour-glass…
Those are the curves I was looking for..
The Middle Class Squeeze
The Middle Class Squeeze is caused by a number of factors, but primarily Falling Wages and Rising Costs. The costs of insurance, healthcare, energy, and education are rapidly growing while the average income seems to be falling.
Fun stat: Mid-range jobs paying $14-$21 account for 60% of jobs lost during the recession but only 22% of the jobs gained back. Lower paying jobs of $7-13 represents about 58% of the job growth.
We're adding the wrong jobs.
So what do we do? Rely heavily on the government.
What most "middle-classers" don't realize is that the government is actually making the problem worse.
Unintended Consequences
For example, think about your checking account. There used to be Free Checking accounts offered everywhere. The bank would make money in other areas (overdraft, interchange, etc.) which would subsidize this Free Checking. The government wanted to help consumers by limiting the money banks could charge for overdraft and interchange.
Interestingly, banks are still making money and middle to low-income Americans no longer have Free Checking options.
The Point of All This
I didn't have a cohesive theme for this article. I was hoping that if I included a picture of Kim Kardashian, the numbers of visitors I get would increase. Since my "sex sells" results won't be known for a while, let me at least make an attempt at a conclusion for those still reading.
The American middle class is growing more and more dependent on the government. The greater the dependency grows..and the more the government intervenes..the worse EVERYTHING gets.
So what's America to do? Sounds like another catch 22.