When I first started blogging about personal finance, my obsession quickly shifted from personal finance to blogging itself. I used to obsess over the amount of traffic, the number of clicks, and the number of comments. I would monitor my Alexa ranking every day to see the downward trend. I would check my email religiously to see what advertising inquiries I received.
This addiction was fed by reading other blogs. Seeing the progress of other blogs would motivate me to improve and grow.
I'm not as concerned with metrics as I once was, but for those that are in a stage of obsession, let me fuel your fire. It's been a few months since I last opened up the hood of this well-oiled website.
August Blog Update
I was able to knock out around 3-4 blog posts per week which is my goal. If I don't write enough, I'll lose readers. If I write too much, I'll lose a fiance. So 12-15 per month seems to be my sweet spot.
I started a second blog, which was fun (for a minute). Fat Free Personal Finance was created in an afternoon and hasn't been touched since. I still have big plans for it, but I haven't devoted the time yet. Here's the problem I'm having: whenever I write an article, I quickly think "should I post this to Funancials or Fat Free?" In other words, do I want four people to read it or four thousand people to read it? The choice is simple…
Alexa Ranking
A few months ago I was hovering around 100k Alexa ranking. I have slipped each week this summer and now I'm sitting around 200k. Definitely not where I want to be, but my traffic is at an all-time high. More people are visiting my website (which is good) but less people have the Alexa Toolbar installed. I take this to mean that less bloggers are reading my site, but more "normal people." It makes sense because I haven't done a fantastic job of networking with other bloggers over the last few months.
Visitors
The breakdown of visitors has changed drastically from when I began. Let's have a looksie:
December Breakdown of Visitors
29.06% Search Traffic
40.55% Referral Traffic
23.10% Direct Traffic
7.29% Campaigns
August Breakdown of Visitors
63.12% Search Traffic
21.81% Referral Traffic
10.79% Direct Traffic
4.28% Campaigns
That's a HUGE DIFFERENCE in search traffic and I know exactly why…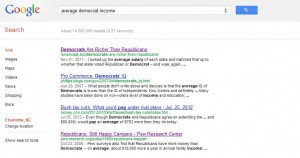 The upcoming election is on a lot of people's minds. The RNC just happened. The DNC is about to happen (which is a huge deal for my city). And people are GOOGLING out of control.
If you Google "Average Republican Income" or "Average Democrat Income," Funancials is sitting in the #1 spot. I would estimate half of my traffic is going to this article. My bounce rate has spiked because of this, so clearly I need to do a better job of adding links to this article in order to keep the visitors on my site.
Earnings
The money coming in has been consistent. Not enough to quit my day job, but it's a nice supplement. I'm hoping that, in 2-3 years, Miss Blinkin and I will be able to live on my blogging income and both of our salaries will go straight to savings. We shall see…
My focus continues to be on writing quality content and increasing the number of subscribers I have. I've had over a hundred subscribe this month which is a positive sign.
All you have to do is enter your email (top right of sidebar) and the ladies will be all over you soon after.
As always, thanks for reading.