If I were rich, I'd be a Republican. If I were poor, I would be a Democrat.
Does this make me crazy?
If I were rich, I would want to protect my assets. One way of doing this would be to vote for anything that reduces taxes. I would hate to work so hard only to see a large portion of my money given away to those that don't work as hard as I do.
If I were poor, I would greatly appreciate government services. I would strongly believe in the redistribution of wealth – and I would want everyone to be taken care of. Even though I wasn't born into a generous situation, I would like to have the same opportunities as others.
This is how my mind thinks. I would expect people to vote for things that directly benefit themselves.
Does this make me crazy?
According to my own research, it does.
A few weeks ago, I stumbled upon a feature on Credit Karma which showed the average credit score of each state (also showed average FICO of certain email users [aol, gmail, etc.] which was awesome). I took this information and went a step further. I decided to see which of those states are considered Republican and Democratic – based on the last election.
Results:
Average Republican Credit Score: 658.36
Average Democratic Credit Score: 671.39
My independent research results surprised me. In my mind I was thinking: how could Republicans have worse credit than Democrats?
Republicans are rich and rich people pay their bills. Right?
Not exactly. I, again, decided to dive in a bit deeper. I looked up the average salary of each state and matched that up to whether that state voted Republican or Democrat – and was, again, surprised.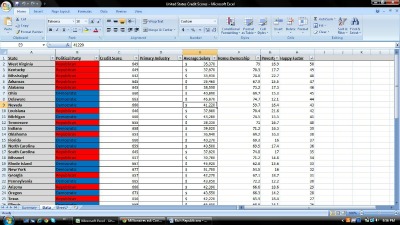 Me – excelling.
Results:
Average Republican Salary: $38,855
Average Democratic Salary: $44,934
There were a few different reasons I could think of as to why this was true. Example: Celebrities are liberal – and rich. The South is conservative – and poor. But I didn't think this was enough to skew the results.
Astonished – I immediately Googled my findings to see if anyone had this discovery before me. My Christopher Columbus moment was short lived as I stumbled upon many interesting articles – which I'm going to recommend to you all.
Seven of the Top Ten Wealthiest Members of Congress Are Democrats
Are you all surprised to see that Democrats are "richer" than Republicans – and the "rich" are asking to be taxed?
***I don't have a political agenda. I don't actually side with Republicans or Democrats, but Libertarians. And I don't actually believe Democrats are wealthier than Republicans, but it doesn't make my "research" any less interesting. I would not accept my research as fact.