A few weeks ago, I shared my 3 favorite credit cards.
My favorite cards consisted of the:
Blue Cash Preferred Card from American Express
BankAmericard Cash Rewards Credit Card
Chase Sapphire Preferred Card
I selected these 3 cards because of the high percentage of cash back earned on purchases coupled with their initial sign-up bonuses. If you actually read the article (click the link above if you haven't), you may remember another reason why I love the credit card from Bank of America.
Credit Card Offers Are The Best
(Not the credit card offers you receive in the mail every day, learn how to stop receiving those credit card offers)
Bank of America sends targeted offers to their credit/debit card users via online or mobile banking. This program, known as BankAmeriDeals, allows customers to choose cash back deals such as – "Receive 15% Cash Back At Starbucks."
These offers greatly increase the advertised cash back rate of 3%, 2% and 1%.
American Express Offers For You
I think someone at American Express must have read my previous article because they, too, have "offers for you." I'm putting that in quotations because I have no idea what the program is called. When I sign into my American Express account, here is what I find:

I, honestly, would not know about these offers if it wasn't for another blog I read: Financial Ramblings.
When I click on the Offers For You tab, I am presented with several VERY ATTRACTIVE offers. Here are a few: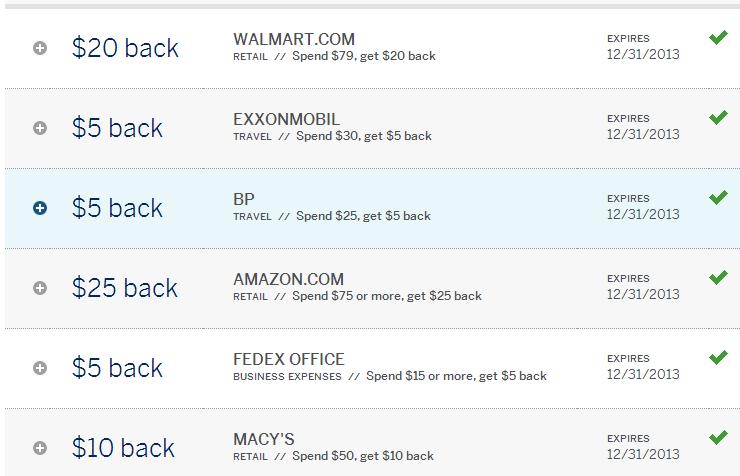 If you are unable to view this image on your phone, here are a few deals:
Spend $75 at Amazon.com, get $25 back
Spend $50 at Macy's, get $10 back
Spend $79 at Walmart.com, get $20 back
Spend $25 at BP, get $5 back
The Fine Print
I have no affiliation with Bank of America or American Express. I don't know all of the specifics (I have a hunch). I don't know if every cardholder is presented with the same offers OR if they are based on your geography and spending patterns. I don't know how long these offers have been available and I don't know when these offers will disappear.
But…
What I DO know is that, while THESE OFFERS exist, they GREATLY INCREASE THE AMOUNT OF CASH BACK REWARDS you can receive by using your credit card.
Readers: Does anyone know of any similar perks offered by other card issuers?